Meet Layoff Watch, a news-breaking bot for our members
The Big Local News team is pleased to announce the launch of Layoff Watch, a new notification service for our members.
A decades-old federal law requires the public disclosure of large layoffs months in advance. But with no easily available list of notices online, journalists struggle to keep up. Newsworthy job losses often go uncovered.
Big Local News solves the problem by developing open-source software that automatically gathers, cleans and consolidates the latest data from dozens of fragmented government websites each day.
Since its beta launch earlier this year, the system has served up scoops for newsrooms across the country, including the Cedar Rapids Gazette, the Sioux City Journal, the Tampa Bay Times, the Independent Florida Alligator and the Chicago Tribune.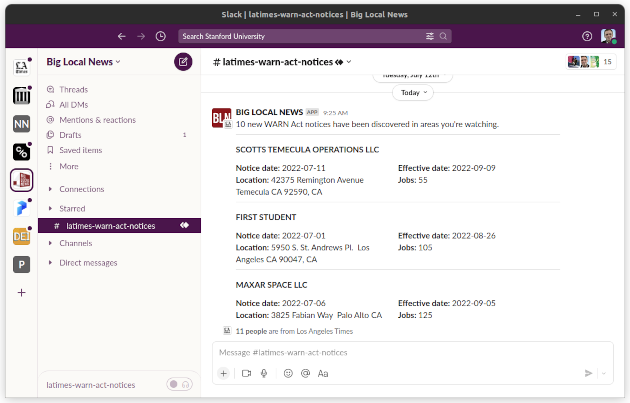 Now members of the Big Local News Industrial Affiliates program have access to something extra: Automated alerts when new notices arrive.
The tips are delivered by bots running in Slack and Microsoft Teams for our inaugural members, Reuters and the Los Angeles Times.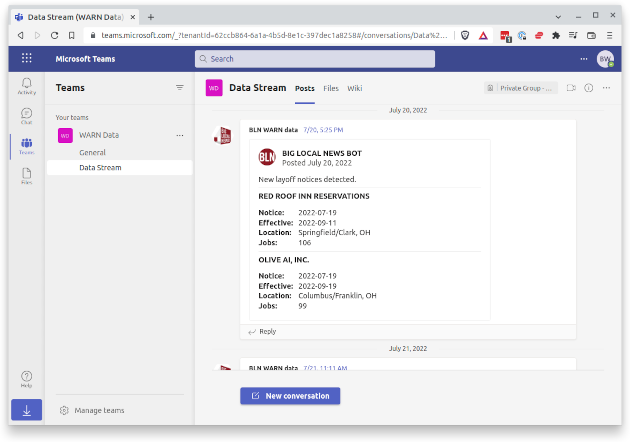 Become a member today to access Layoff Watch, as well as similar services set to launch soon. The slate includes Agenda Watch, our in-progress push to automate the collection of schedules, minutes and other documents produced by local government. The underlying data, as well as the code that gathers it, is provided to all journalists for free.
Membership fees directly support the work of Big Local News by funding data gathering, software development and student instruction.
Members are also able to engage with the program's staff and its collection of datasets about policing, public health and other vital topics.
To learn more and explore becoming a member, contact the program's administrator, Cheryl Phillips, at [email protected].
About Big Local News
From its base at Stanford University, Big Local News gathers data, builds tools and collaborates with reporters to produce journalism that makes an impact. Its website at biglocalnews.org offers a free archiving service for journalists to store and share data.
Learn more by visiting our About page. Have questions or ideas for collaborative work? Reach out by email at [email protected] or at @biglocalnews on Twitter.