How Big Local News helped data journalists cover the midterms
Last month the Big Local News team joined forces with reporters across America to cover the country's midterm elections. Here are six examples of how our services helped local newsrooms do more with data.
LAist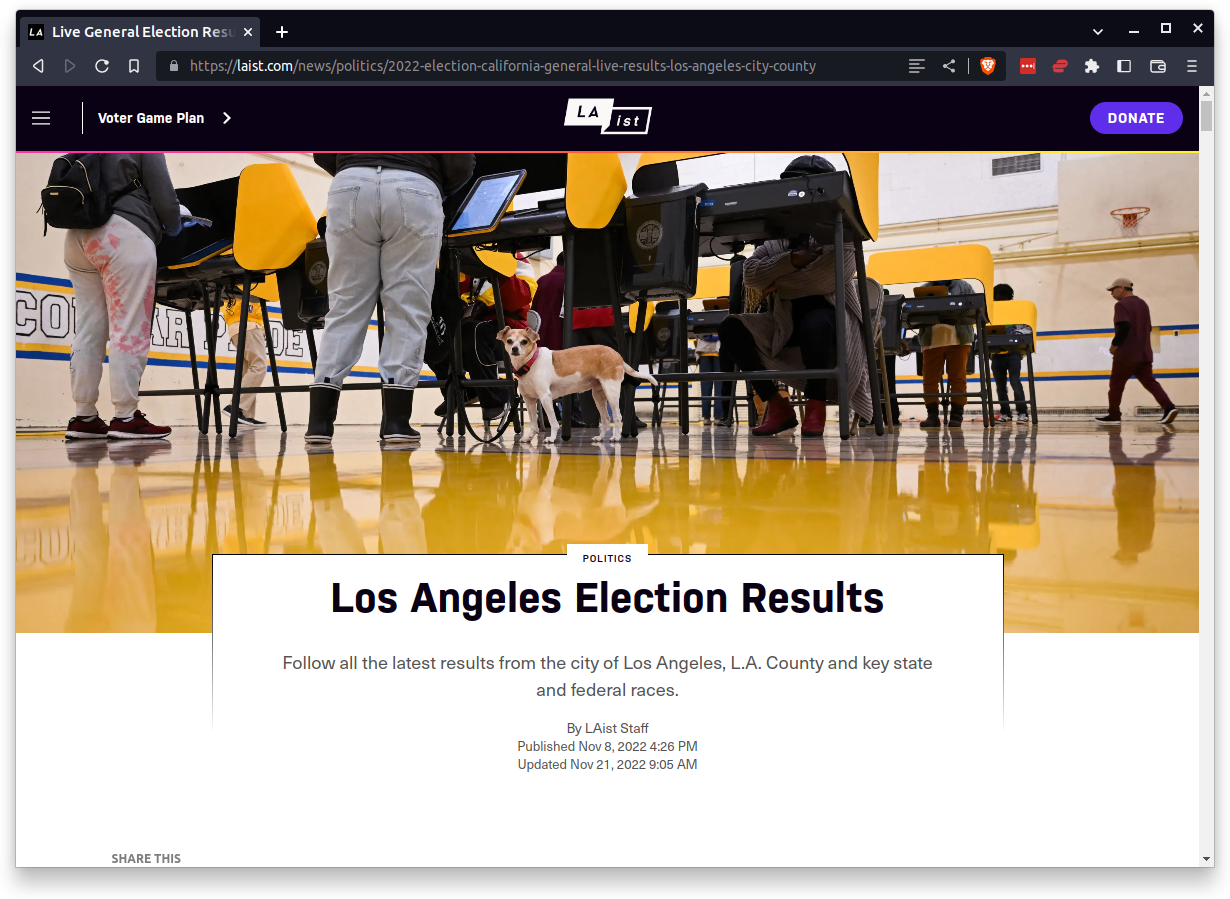 Our team partnered with news developers at LAist, a public media site based in Pasadena, to provide live election results after polls closed on November 8.
Big Local News developers wrote computer scripts, released as open-source software, to harvest the latest data posted by election officials in Los Angeles County as well as the California Secretary of State.
Melissa DeMund and Diana Chu at LAist created an automatically updating interface that served the latest data to a centralized landing page, as well as other pages focused on Los Angeles County's top local races.
USC Annenberg Media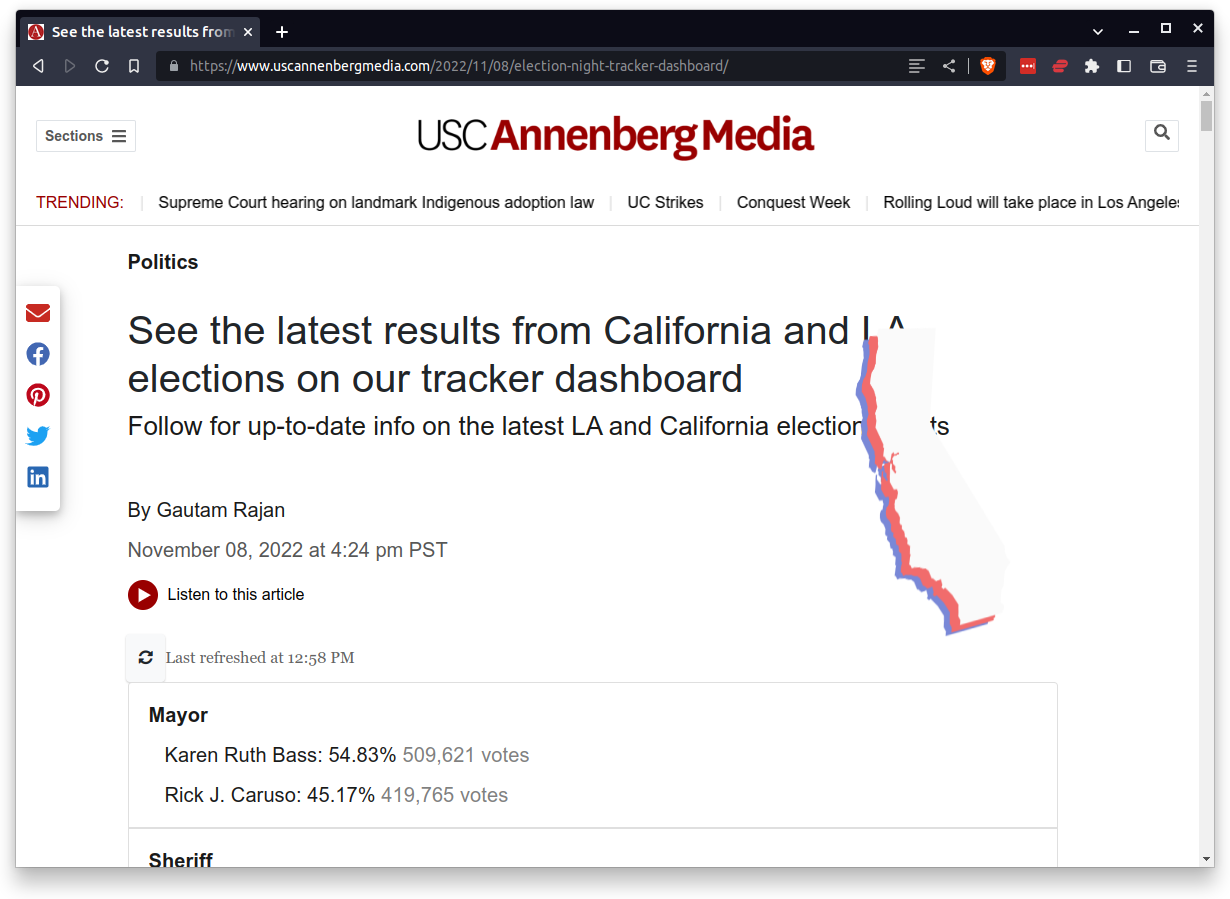 At Annenberg Media, Gautam Rajan used the same data feed to produce a live results page of his own. It was the first time the student-led news site based at USC's journalism school had ever published live election results.
The final tallies from Los Angeles County are now also available for download from the Big Local News data portal, our free archiving service for journalists to store, share and publish data.
THE CITY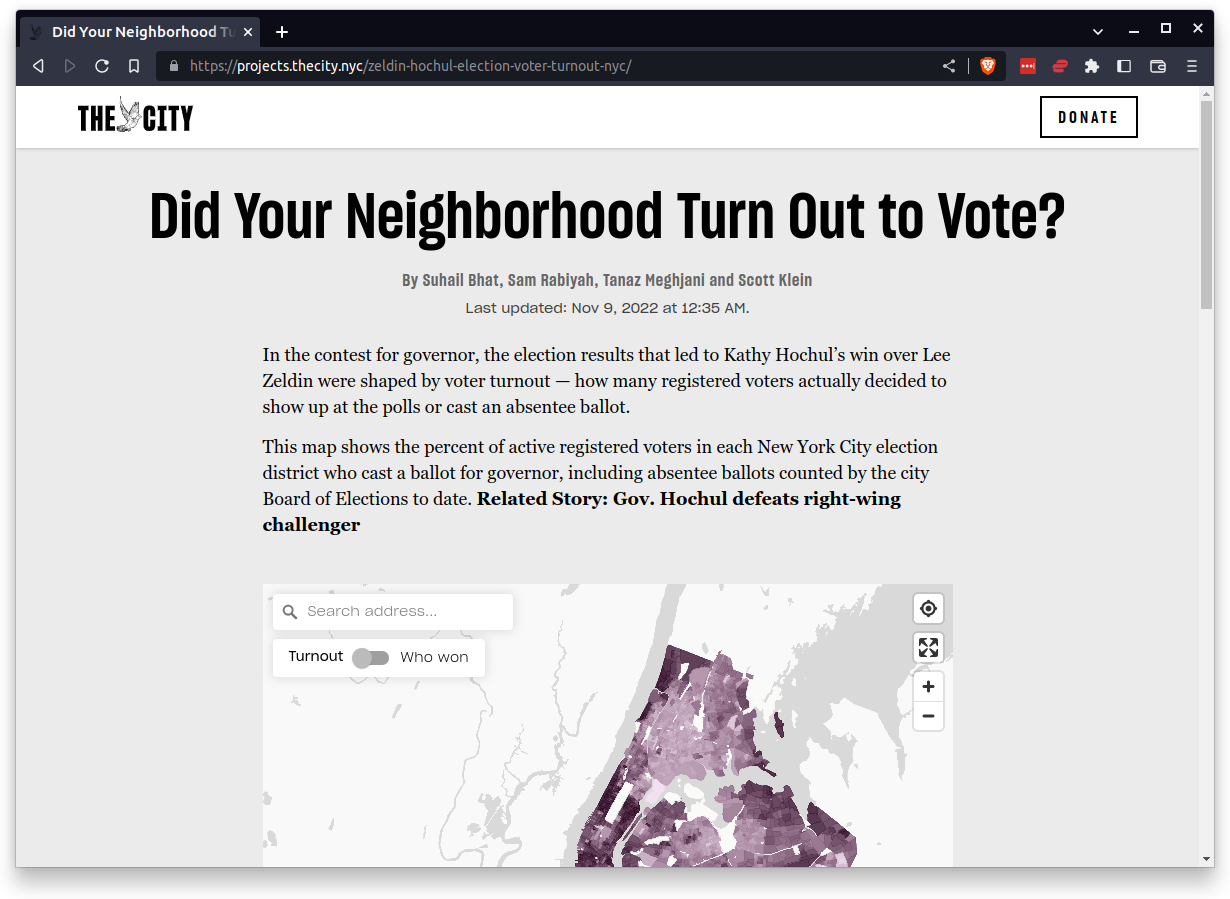 At THE CITY, a non-profit newsroom based in New York, Big Local News helped Suhail Bhat, Sam Rabiyah, Tanaz Meghjani and Scott Klein rapidly produce a turnout analysis by tuning up the site's framework for publishing custom-coded pages.
The result of our work, a React project template with a suite of complimentary GitHub Actions, is available as free and open source. The historic turnout data featured in the story is available on the Big Local News data portal.
The Baltimore Banner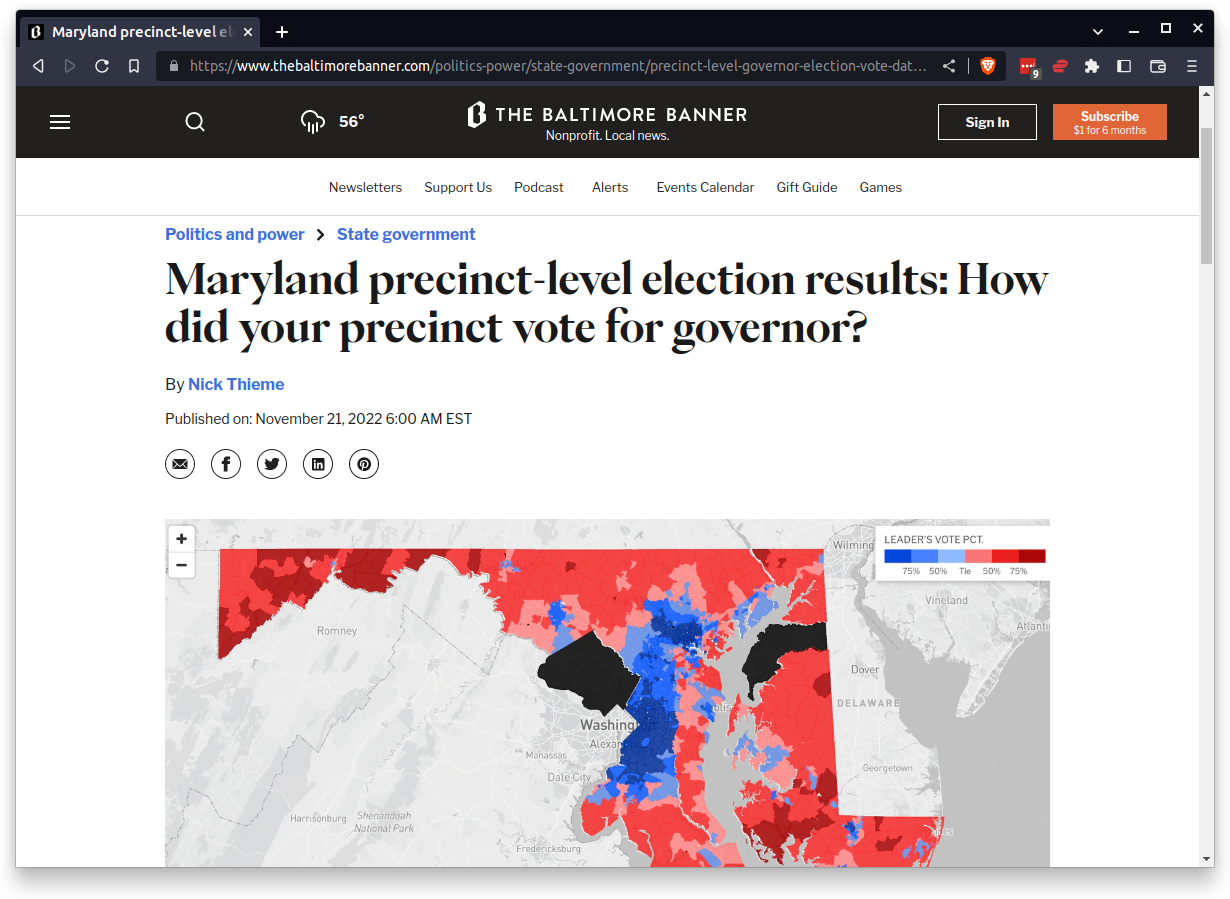 With computer programming help from Big Local News, Nick Thieme at The Baltimore Banner published an interactive map of precinct results in Maryland open governor's race.
Local News Matters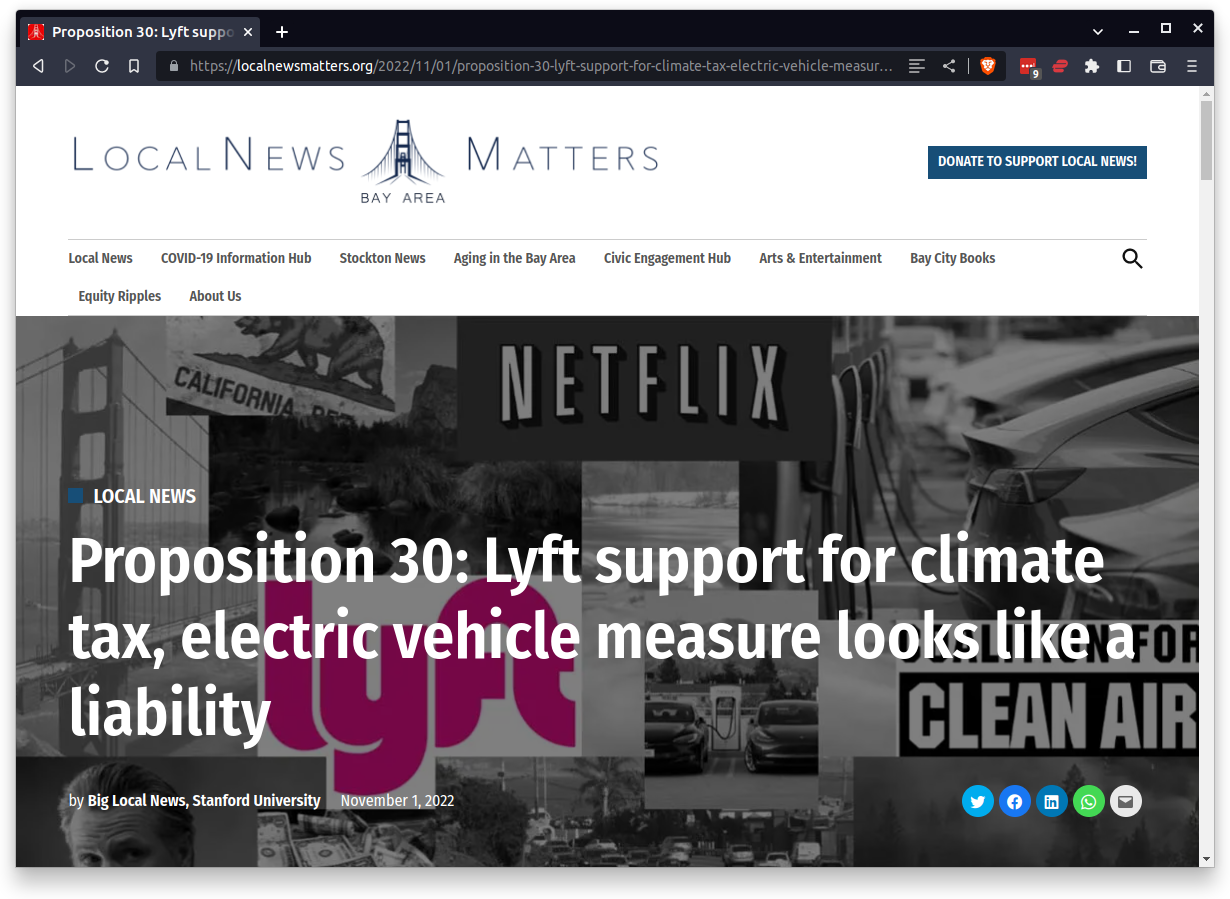 Earlier this year, Big Local News released CAL-ACCESS Watch, a new tool for tracking the money that routinely floods California election contests. Students at Stanford used its open-source dataset to analyze fundraising for and against Proposition 30, a proposed tax on the wealthy to subsidize electric vehicles.
The story was reported by Evan Peng, Gabriela Reitz, Sophia Vahanvaty, Mark Allen Cu, Cleopatra Howell, Kaitlin Hsu, Phoebe Quinton and Sonya Schoenberger. Their piece appeared in Local News Matters, the Mountain View Voice, Danville San Ramon, SFGate and Pleasanton Weekly.
The Los Angeles Times
At the Los Angeles Times, Gabrielle LaMarr LeMee, Sandhya Kambhampati and Iris Lee used Big Local News's campaign-finance data system to publish a tracker that allowed readers to monitor and explore the money fueling a wide array of statewide contests and ballot measures.
About Big Local News
From its base at Stanford University, Big Local News gathers data, builds tools and collaborates with reporters to produce journalism that makes an impact. Its website at biglocalnews.org offers a free archiving service for journalists to store and share data. Learn more by visiting our about page.